Join in the work among God's people in Europe
Thank you for your interest in serving among the thousands of Christians across the Convocation of Episcopal Churches in Europe! For more information about who we are, how our church life works, or where our congregations are located, we invite you to explore all of our current website resources. To stay updated on the latest news on actions and events in the Convocation, we invite you to click here to subscribe to our monthly email newsletter.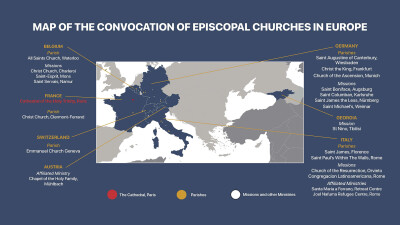 Clergy Openings in the Episcopal Church in Europe
The Cathedral of the Holy Trinity, Paris, France
Parish Profile can be viewed here
The OTM Profile can be viewed here
General information about the search here
For further information and applications contact our search consultant, The Rev. Linda Grenz, at
Application deadline was November 30, 2022. No more applications are being received.
Christ Church, Clermont-Ferrand, France
Part-time priest in charge position
For further information or expressions of interest please the convocation transition minister, The Ven. Walter Baer at