Convocation Mission Festival 2022
When: June 10-12, 2022
What: Sharing, learning, teaching, praying. Together we will engage in discerning how each of our mission congregations can grow in God's love and prosper in this world
Who: Each Mission can send up to three delegates. The Committee on Mission Congregations will pay for your hotel rooms as well as meals on Friday and Saturday, through lunch on Sunday. You are responsible for the costs of travel as well as any additional delegates.
Where: "Das Hotel am Alten Park", Frölichstraße 17, 86150 Augsburg, Germany (a ministry of the Evangelische Diakonissenanstalt Augsburg)
Register: HERE
Registration will close on March 31, 2022
---

Larry Litman (Rome), incoming Chair
Cynthia D'Alimonte (Florence)
The Rev. Christopher Easthill (Wiesbaden), Liaison to St. James the Less, Nürnberg DE; St. Michael's in Thuringia DE; St. Columban's in Karlsruhe DE
Catharina Ginsel (Augsburg), Liaison to St. Boniface, Augsburg DE
The Rev. Sunny Hallanan (Waterloo), Liaison to the Council of Advice; Christ Church, Charleroi BE; Holy Spirit, Mons BE; St. Servais, Namur BE; and St. Nino's, Tbilisi, Georgia
Audrey Jolivet-Habiby (Paris), Liaison to Mission Épiscopale Francophone de la Résurrection, Paris FR
Nick Mahoney (Clermont-Ferrand)
Jes Villa (Munich)
The Ven. Walter Baer (Archdeacon), ex-officio
About the COMmittee
The Committee on Mission Congregation is composed of lay and clergy members who aid in the nurturing and formation of mission congregations. Mindful of the Five Marks of Mission, and guided by its charter, the committee focuses on
encouraging and supporting the convocation's existing mission congregations, and
identifying and responding to the needs for new mission congregations.
The committee has developed a strategy to frame the intentional establishment of new mission congregations within the Convocation. It also provides ongoing counsel and support to the current mission congregations, encouraging them towards autonomy and, when appropriate, parish status. See the document: Strategic Way Forward (2021 revision) here.
CONTACT: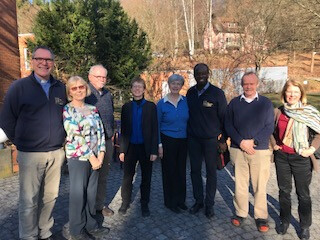 Left to right: Chris Easthill, Catharina Ginsel, Walter Baer, Sunny Hallanan,
Cindy D'Alimonte, former members: David Case, Adam Williams, Anne Swardson